The Dog's Head is made up of sand and gravel mines, as well as used mine pits turned into ponds.
An effort to pave the way for future development in the Dog's Head area of far East Austin has become law.
House Bill 4650 — which creates the East Central Travis County Conservation and Reclamation District No. 1 across 2,100 acres in the Dog's Head, located between U.S. Highway 183 and State Highway 130 — became law June 15.
The creation of the municipal utility district, or MUD, sets the framework for governing the reclamation of the land and financing utility infrastructure. It's all part of a long-term vision to transform what has long been a sand and gravel mining hub.
The Dog's Head is largely undeveloped. Just a few dirt roads provide access to the nearly 3,000 acres that make up the Dog's Head, which is dotted with family-owned ranches and mining operations. But with the development of East Austin expanding out to Walter E. Long Metropolitan Park and beyond, the city of Austin has taken a keen interest in shaping future development east of U.S. Highway 183. Tesla's rising gigafactory, just north of the Colorado River and east of the SH 130 toll road, has only added to the intrigue of the area.
A satellite view of the Dog's Head in far East Austin, which is formed naturally by the Colorado River. To the right of the the dog's snout is the State Highway 130 toll road and the new Tesla gigafactory.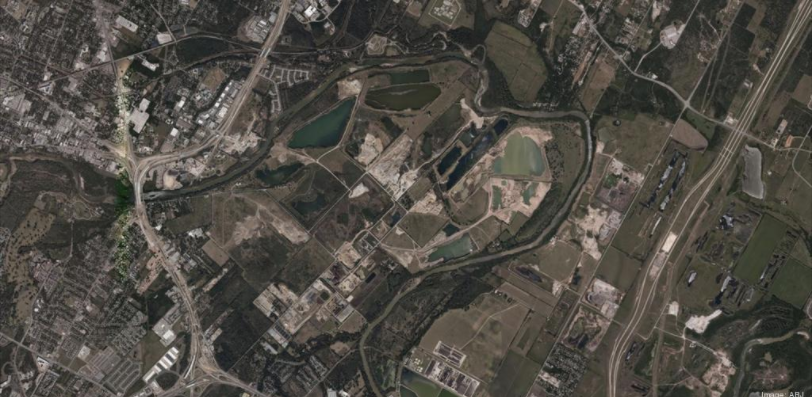 HB 4650 was filed April 19 in the Texas House by District 51 Rep. Eddie Rodriguez. It quickly landed on a fast track, and was introduced April 27 before the Texas House Land & Resource Committee. It was voted out of the House 103-42-2 vote on May 14, and passed the Senate 29-2 on May 27. The MUD will be empowered to reclaim and restore the former mine pits and also undertake drainage and flood control projects, water and wastewater projects, the extension of infrastructure, the development of roads and creation of recreational opportunities, among other public improvements.
Sign Up
The first step to invest with us is to fill out our Interest Form. We'll connect and discuss your goals, then we'll find the best investments to help you meet these goals.
Invest and Enjoy
After you invest you can just sit back, relax, and receive quarterly cash flow payments from your passive investments.